Café Papillon of Oxted
In Oxted, serving high quality food with a warm and welcoming ambiance.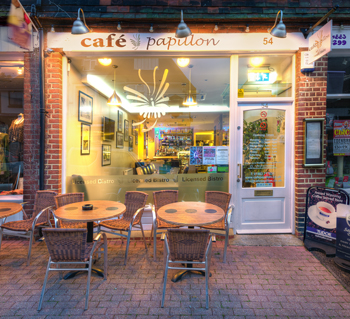 Café Papillon is located at 54 Station Road West, Oxted, Surrey. We provide various quality convenient food and refreshments depending on the time of day. Near to the train station we are ideally situated for commuters and busy people on the go, a well deserved bistro dinner after a hard day's work or even a late night private party.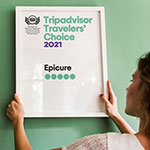 Tripadvisor Travelers Choice 2021
We've been awarded the Tripadvisor Travelers Choice 2021! Thanks to all our customers for giving us this award. Your support during these difficult times is greatly appreciated..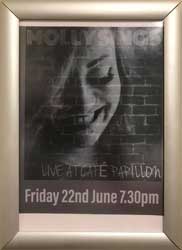 Entertainment Nights
Once a month on a Friday night is our special night at Cafe Papillon. We have, uniquely selected 2 or 3 course bistro menu, live music and a late 12pm licensed bar. Make it a night to remember, tell your friends and start planning. Call 01883 717031 to book a table.
Frazer Chamberlain needs our help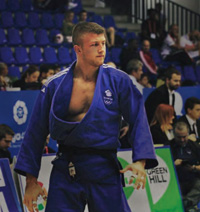 After his cup medal success in Lisbon, Frazer would like the opportunity to represent his country in the Tokyo 2020 Olympic games, and we can all help him get there.
Click here

for more info on how you can help him.
Hiring front of house staff.
Part Time (weekday & weekend) front of house staff required. Position will suit polite, smart, friendly person. Experience and advantage but training will be given. Download an application form from our careers page and apply today.
Still rated with 5 stars

After a surprise visit from Environmental Health the Cafe Papillon team are proud to say we have retained our 5 star Food Hygiene Rating.
Organising a Party?
Organising a birthday party for someone special in your life? Want to celebrate a moment to remember? Why not CALL US TODAY to see how we can make it a party you will never forget! Wonderful food, late night bar, great service. What more could you wish for?
NEW Friday night live menu. See our Menu page for more information.

Full Time Chef required. See our Careers page for more information.
In the morning, from the Breakfast Menu, Café Papillon serves hot & cold baguettes, sandwiches, quality coffees (cappuccino, latte, mocha), teas, hot chocolates, freshly hand made patisseries that will make your mouth water, creamy milk shakes, healthy fresh juices and nutritious smoothies. All to eat in or take away. We also do pre-ordered lunches, packed and ready to go as soon as you walk through the door. We at Café Papillon know you have better things to be doing than waiting for your baguette, sandwich or other food order to be prepared. So we will take your order online and have it ready before you get there. In cold mornings there is nothing better than one of our fresh home made soups with freshly baked continental breads.
Why not enjoy a traditional afternoon tea or a seasonal platter hand picked as you desire. Café Papillon also has a licensed bar to serve you high quality beers, wines and champagnes designed to complement our traditional and international cuisine which will be created using locally sourced produce.
In the evening Café Papillon provides a fine dining experience using our fully equipped restaurant kitchen.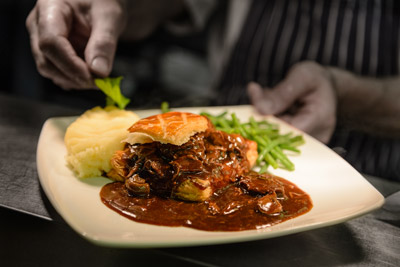 We can provide a private venue for parties and business meetings. With our wealth of experience there is no one better in Oxted to cater for your private party or themed night. We will even offer you a free celebration cake for occasions where it is fitting.
Full Time Chef Required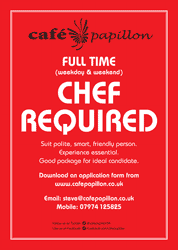 Please see our careers page for an application form.

During our lovely summers, Café Papillon can pamper you if it gets too hot outside with the coolness of our fully air conditioned restaurant with surround sound iPod System.
Other Services
Using our temperature controlled delivery service, Café Papillon will be happy to provide local business with convenient quality take away lunches, buffets to order, catered meetings.
Other facilities
We cater for all needs and have disabled and baby changing facilities.
Leave us a positive review if you enjoyed our services too

Thanks to all our customers who have voted us number one in Oxted on Trip Advisor! If you have also enjoyed our food and customer service please leave us a positive review and let us know.
Many thanks in advance!
If you have any suggestions on how we can improve our services please send us a message!