Future Events
Friday Night Entertainment
Once a month at the Cafe Papillon we have an entertainment night with live music and a late bar. Look for Friday Night dates below.
Please see our Facebook

page for future events, singers and planned entertainment.
News
Please see our Twitter

and Facebook

pages for Café Papillon news.
Other News
Awarded TripAdvisor Certificate of Excellence 2019
2019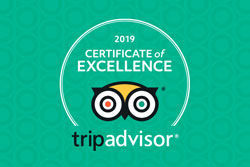 We are very proud to announce we've been awarded the TripAdvisor Certificate of Excellence for 2019! Why does this award mean so much to us? The TripAdvisor Certificate of Excellence is awarded to establishments who have received a large number of positive reviews from their customers. TripAdvisor awards these certificates to businesses that "consistently receive Very Good and Excellent reviews" over at least 12 months. We would like to take this opportunity to thank each and everyone of our loyal customers, and the local community, in helping us achieve this recognition. Your acknowledgement of all our hard work is the biggest reward of all.
Frazer Chamberlain needs our help
2019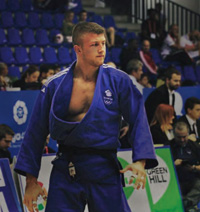 Frazer Chamberlain needs our help. After his cup medal success in Lisbon, Frazer would like the opportunity to take part in the Tokyo 2020 Olympic games, and we can help him get there.
Frazer is a self-funded Judo Athlete at the Camberley Judo Club, were the marvellous GB coach Luke Preston is based and the same club as UK's judo champion Ashley McKenzie. Frazer is self-funded, which means as well as having a full time job, he works a part time job around his busy training schedule to pay for both his living and training expenses. With 2020 Olympics getting closer, he has started looking for sponsors and this is where you can help directly, or by recommending him to a business. Sponsoring Fraser could be very rewarding for any business as there is a great possibility for him to qualify for the Tokyo Summer Olympic games. Being affiliated with an athlete of this calibre will highly likely mean your business logo will be viewed by a huge world wide audience. By sponsoring Fraser you are helping him represent Britain and indirectly becoming a part of Team GB. During the Tokyo Olympic 2020 summer games, when team GB is successfully you can actually shout out with some pride "We won" knowing you really did your bit to help.
More on how you can help or follow Frazer Chamberlain.