Café Papillon - Opening Times
Holiday Opening Times
We'd like to take this opportunity to wish all our customers a May Bank Holiday!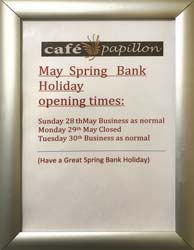 May Spring Bank Holiday Times
Sunday 28th May, business as normal
Monday 29th May, CLOSED
Tuesday 30th May, business as normal

Have a great Spring Bank Holiday!
Normal Opening Times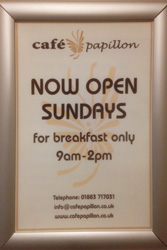 Mon-Thu

8am - 5pm

Fri

8am - 5pm

Entertainment Nights

5pm - late

Once a month on a Friday, we have a selected menu, late 12pm bar & live music. See our Friday Nights page for more details.

Sat

8am - 5pm

Sun

9am - 2pm

Open for Sunday breakfasts.

Great Friday Nights Out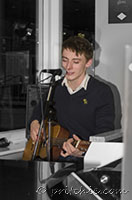 TGI Friday night because at the Cafe Papillon, Friday is our special night. With live music every other Friday and a late night bar licensed until 12pm the Cafe Papillon will make your Friday night one to tell your friends about.
(Live music is played every other Friday, please call to confirm for your night).

Booking is advisable to save disappointment.
Food served until 9pm (Fri). Bar licensed until 12pm.
Menu Serving times
8:00am - 11:00, (Mon - Sat)
12:00pm - 3:00pm, (Mon - Sat)
6:00pm - 9:00pm, (Fri)