Macmillan's "World's Biggest Coffee Morning"
People from Oxted encouraged to enjoy a coffee for leading cancer charity.
Heidi and Steve Chamberlain - owners of Cafe Papillon in Oxted happily allowed their cafe to be used as the launch of Macmillan's World's Biggest Coffee Morning event on Thursday 13th September. With the official Coffee Morning mascot 'Macmug' at the ready customers and passers by were greeted by a giant coffee mug and asked to show support of the charity's flagship fundraiser. Heidi and Steve will be supporting the event on Friday 28th September by donating a £1 for every coffee sold in the cafe from 9am to 10.30am and would like to invite everyone to come along and join in.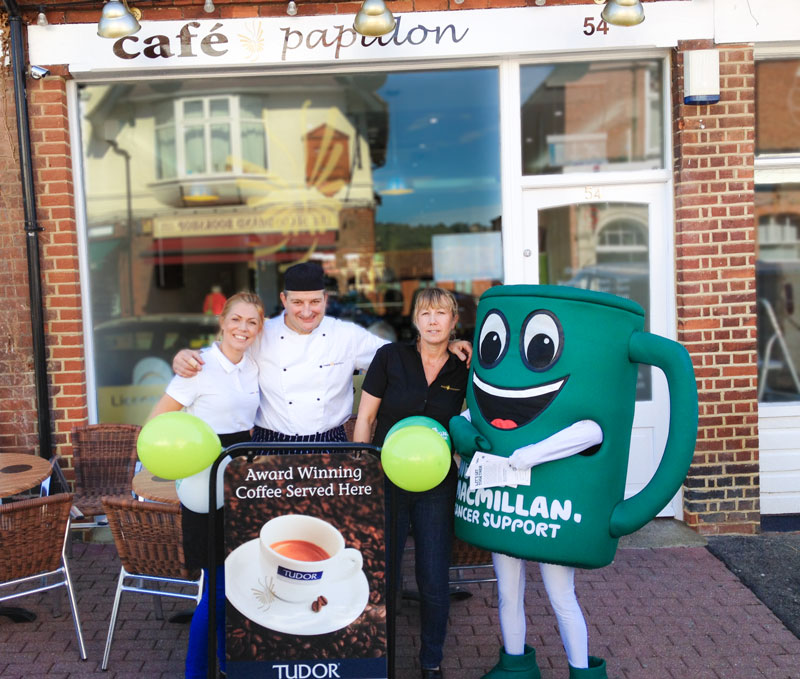 As Heidi explained: We have experienced the good work of Macmillan first hand with a family member who was supported through her cancer journey. So the Coffee Morning event really seemed like a great way of giving something back to such a great cause and showing our own appreciation. We really hope that people in Oxted will support our event and come along and try our coffee and cakes on the day.
Macmillan Cancer Support wants this year's World's Biggest Coffee Morning to be the biggest ever. The charity is hoping 1090 coffee mornings will take place across the Surrey area, attracting lots of guests and raising £187,500. Across the UK Macmillan hopes to raise a massive £10.7m from the event, beating its £10m total from last year.
Macmillan's fundraising manager for Surrey, Helene Poursain said:
Last year we raised a record-breaking amount of money form the World's Biggest Coffee Morning and we really hope we can repeat that again this year. I think it's a mark of how much people love this event that every year it gets bigger and bigger. People can be so busy, that catching up with friends, workmates or even family can be difficult. This event gives them a reason to make time for each other while also doing something really valuable. It is so fantastic that Heidi and Steve from Cafe Papillon are choosing to support us in 2012 especially being a new business and we hope that people will join them
Every pound raised by those taking part in events like World's Biggest Coffee Morning helps us be there for someone with cancer when they need us most.
The official World's Biggest Coffee Morning day is on September 28.
To find out more about the event visit www.macmillan.org.uk/maketime or call 0845 602 1246