Mat Hammond (singer, guitarist, songwriter)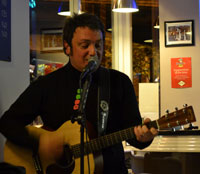 Mat Hammond is an accomplished musician, singer, songwriter and producer with a long and varied career behind him, and a promising future ahead.
After years of begging and pleading with his parents, Mat finally got his first guitar at the age of 8 and began teaching himself to play by noodling around trying to match the notes with the songs he played on his record player. In his teens he formed his first band and switched to playing bass as his full time instrument.
In his early 20s, feeling that he'd gone as far as he could being self-taught, Mat left the U.K. and moved to Hollywood, CA, to attend the esteemed Musicians Institute where he studied Bass, Vocals, Guitar, Songwriting and Music Business. After graduating he went on to spend the next several years in the U.S.A. working both as a professional musician and also simultaneously on the flipside of the music industry as a Sales and Marketing Executive with one of the world's largest musical instruments manufacturers.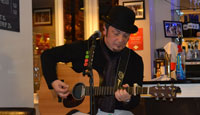 During his tenure as a U.S. resident, he recorded, toured and was involved with a number of musical projects ranging from hard progressive rock to rap to pop and big band/jazz not just as a bassist, but also as a guitarist and vocalist and this diversity allowed Mat to truly stretch his creative and technical muscles in all sorts of directions.
Mat has been the subject of several television and radio features and numerous press articles with many of his own musical projects including the band "Living Daylytes" which completed a headlining tour of the USA in 2003 after signing with an independent record label. Both Living Daylytes, and his follow up outfit, "Eurovox" have albums that are available for download through Amazon, i-Tunes and CDBaby, as well as hard copy CDs through the UK-based distributor, Detour Records.
Now, relocated back to his home in the South-East Counties of the U.K., he is once again forging a musical path, both as a solo artist/performer, and as one half of the acoustic duo "Double6" (www.double6duo.co.uk).
Mat's unique approach to playing cover versions of other artists' material, coupled with his own well-crafted compositions, his intensively driven guitar playing, and his truly charismatic vocal delivery, all combines wonderfully and continues to impress and entertain audiences at each and every appearance.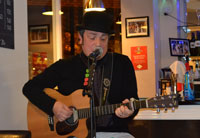 On top of all that, there are no boundaries to the musical journey upon which he might embark. On any given night, at any time, you could hear Mat break out a big band number like Tony Bennett's "Don't Get Around Much Anymore", a 70's rocker such as Led Zeppelin's "Rock and Roll", some 80's pop, say, Depeche Mode's "Strangelove", or something as recent as Daft Punk's "Get Lucky".
Whatever it is that Mat decides to serve up, you can be assured that he puts every ounce of his energy and soul into making you satisfied, but leaving you wanting more.
"I've been very fortunate to have had the opportunity to lead the life I wanted, and all I've ever really wanted to do is to play music and be involved in it. I've had a lot of experiences along the way... some good, some not so good... but everything I've been through, I wouldn't trade for beans... money, though... I'd trade some of the bad stuff for money!"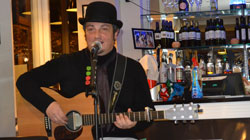 You can find Mat Hammond online at:
www.facebook.com/mathammondmusic
www.soundcloud.com/mathammondmusic
www.myspace.com/mathammond-music
Photographs taken by Elizabeth Hammond
---
Visit the Cafe Papillon
Facebook page
to see customer comments, more photos or to "like" us.